Can't find what you're looking for? Email us about the title you want and we'll do our best to help. also check out our listing of pharmaceutical titles

---
NEW Rehabilitation Science!!!!!!!!!!!! help your back, neck and whiplash injuries.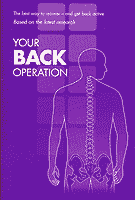 Back Book (American version). Stanley Bigos et al. Oct 2002. This book is intended as a guide for patients and the advice it contains is based on the latest research. It is scientifically linked with the US Dept of Health and Human Services' AHCPR Literature Review process for Acute Low Back Pain Problems Guideline #14 and with the Royal College of General Practitioners, and Faculty of Occupational Medicine guidelines for back pain in the UK. The pamphlet was recently featured in the Back Letter periodical. ISBN 0117030651 . Only sold in packs of 10 copies. $24.00
Your back operation. The best way to recover- and get back active. Author: Waddell, Sell, McGregor, Burton. Published: 11 Jul 2005. Your Back Operation' is a guide for patients who are having surgery for sciatica. It will be suitable for most patients, and aims to help them recover and get on with their lives. The advice comes from the latest research, is approved by spine surgeons, and takes account of patients' views. Key features: Explains what sciatica is and its causes; Describes the operation procedure in understandable terminology; Gives practical advice on steps to recovery; Based on the latest evidence based research. The authors are experts in the following fields: Orthopaedic surgery: Prof. Gordon Waddell, Glasgow. Mr Philip Sell, Leicester. Physiotherapy: Dr Alison McGregor, London. Ergonomics: Prof Kim Burton, Huddersfield. Pack of 10 (28 pages each). ISBN 0117035459. $70.00
Cooperative Link: LA Sports and Spine gives alot of good advice on rehabilitation
The hip and knee book : helping you cope with osteoarthritis. Kim Burton. 2009. This booklet is an indispensable resource for anyone that has osteoarthritis affecting their hip or knee. The advice contained in this booklet is based on the latest medical research, and has been developed with the help of people with osteoarthritis. Aimed at the end-user, it is written in an informal, user-friendly manner that provides clear advice on how to copy with osteoarthritis. The booklet not only covers how to manage osteoarthritis but outlines what osteoarthritis is, what causes it and how it can be diagnosed. The Hip & Knee Book is designed to help sufferers understand what has happened to them and that despite the illness there is plenty that can be done to help overcome the pain and increase activity. The booklet explains what sufferers can do, why they should do this and explains how to do it. All exercises are accompanied by 'how to' illustrations. 26 pp. pack of 10. ISBN 9780117067301. $30.00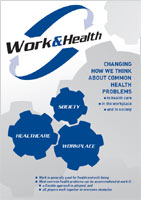 Work and Health: Changing How We Think About Common Health Problems. Gordon Waddell & Kim Burton. 2006. This leaflet challenges how you think about health at work and offers ideas on what you should and should not do - based on new scientific evidence about what is good for workers themselves.
It provides information for those who deal with health issues at work, including:
senior management
line managers
human resources
small employers
unions
health & safety advisers
occupational health professionals
rehabilitation providers
employment advisers
claims handlers
lawyers
The leaflet is sold in packs of 25. ISBN 0117037389; 978011703738X. 8 pp. $24.00
Health and work: [healthcare, workplace, worker]. Kim Burton, Gordon Waddell. 2007. A booklet designed to help patients who are off work, because of sickness or injury, providing advice on how to get back to work. [pack of 10 booklets]. 0117037621 $24.00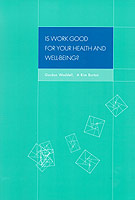 Is Work Good for Your Health and Well-being? Gordon Waddell, A Kim Burton. 2006. Increasing employment and supporting people into work are key elements of the Government's public health and welfare reform agendas. This independent review, 'Is Work Good for Your Health and Well-being?', commissioned by the Department for Work and Pensions, examines scientific evidence on the health benefits of work, focusing on adults of working age and the common health problems that account for two-thirds of sickness absence and long-term incapacity. The study finds that there is a strong evidence base showing that work is generally good for physical and mental health and well-being, taking into account the nature and quality of work and its social context, and that worklessness is associated with poorer physical and mental health. Work can be therapeutic and can reverse the adverse health effects of unemployment, in relation to healthy people of working age, for many disabled people, for most people with common health problems, and for social security beneficiaries. paperback, 246 pp. ISBN 0117036943. $50.00
Concepts of Rehabilitation for the Management of Common Health Problems. :Gordon Waddell, A. Kim Burton. Jun 2004.
There is now broad agreement on the importance of rehabilitation and the need for better occupational health and vocational rehabilitation services in the UK1. The responses to the Green Paper Pathways to work were generally supportive across the political spectrum (DWP 2003b). The key features of early intervention, easier access to more skilled support to seek and move into work, the development of new work-focused rehabilitation programmes, and engagement of key stakeholders - particularly employers and family doctors - were welcomed by a wide range of organisations. However, there is considerable uncertainty about what 'rehabilitation' is, and about its (cost)-effectiveness, particularly for the common health problems that cause most sickness absence and long-term incapacity. Key Features: Aims to develop a theoretical and conceptual basis for rehabilitation of common health problems, with the goals of job retention, return to work and reintegration; To consider the implications for: healthcare and clinical management; employers, trade unions and insurers and occupational health; rehabilitation policy. 98 pp. paperback. ISBN 0117033944. $30.00
The Whiplash Book. British Version. Kim Burton, Tim McClune, Gordon Waddell. 2001. This inexpensive illustrated booklet presents the most up-to-date advice on how to deal with whiplash, based on the latest international medical research. The booklet is designed to help people cope with whiplash injury so that they can recover quickly and avoid long term pain and disability. It is based on the latest advice and has been written by a multidisciplinary team who specialties cover orthopedics, biomechanics, and osteopathy. As the basic message is to keep moving, it includes a number of neck exercises. This publication will prove useful for hospitals, particularly accident and emergency departments, general practitioners and physiotherapists. ISBN 011702029X $30.00 Pack of 10
The Neck Book. Author: Gordon Waddell et al. Published: 07 Sep 2004. This publication contains accurate and effective advice and information on early management of neck pain, based on the latest research in the fields of orthopaedics, physiotherapy and ergonomics. Aspects discussed include: causes of neck pain; dealing with acute neck pain; muscle tension and stress; exercises and advice on how to stay active and get on with your life. 011703326X. $30.00 per pack of 10
Concepts of Rehabilitation for the Management of Common Health Problems. :Gordon Waddell, A. Kim Burton. Jun 2004.
There is now broad agreement on the importance of rehabilitation and the need for better occupational health and vocational rehabilitation services in the UK1. The responses to the Green Paper Pathways to work were generally supportive across the political spectrum (DWP 2003b). The key features of early intervention, easier access to more skilled support to seek and move into work, the development of new work-focused rehabilitation programmes, and engagement of key stakeholders - particularly employers and family doctors - were welcomed by a wide range of organisations. However, there is considerable uncertainty about what 'rehabilitation' is, and about its (cost)-effectiveness, particularly for the common health problems that cause most sickness absence and long-term incapacity. Key Features: Aims to develop a theoretical and conceptual basis for rehabilitation of common health problems, with the goals of job retention, return to work and reintegration; To consider the implications for: healthcare and clinical management; employers, trade unions and insurers and occupational health; rehabilitation policy. 98 pp. paperback. ISBN 0117033944. $30.00

Birth Counts.
Statistics of Pregnancy and Childbirth.
Alison Macfarlane. 2000.
Controversies and concerns about maternity care continue to create a demand for statistics but many people involved in these debates are still unaware of the vast range of information collected by government departments and the National Health Service (NHS). This publication brings together and reviews statistics about pregnancy, childbirth and newborn babies, the health services provided for them, and the social, economic and environmental factors which can affect the outcome of pregnancy. The first volume is a critical guide to the statistics, showing how some of their limitations result from the historical context in which the collection of data developed. Data from many sources is included in the second volume, which consists of over 350 tables on subjects such as geographical variations, social class differences and time trends in births and infant mortality, place of birth, staffing of maternity services and the costs of having a baby. Most of the data is for recent years, but some data for earlier periods is included, along with historical time series. Paperback, 2 volumes, Vol. I: xxvi + 447 pp., Vol. II: xxx + 673 pp.
ISBN 0116210508 $90.00

Birth Statistics.
Review of the Registrar General on Births and Patterns of Family Building in England and Wales, 1998.
FM1 Office for National Statistics 27.
Great Britain Office for National Statistics. 1999.
Paperback, xxxii + 83 pp.
ISBN 0116212454 $60.00
BRC / IOP Technical Standard and Protocol for Companies Manufacturing and Supplying Food Packaging Materials for Retailer Branded Products.
British Retail Consortium (BRC) & The Institute Of Packaging. 2001.
An essential reference guide for all retailers and suppliers of food products and manufacturers of food packaging materials in the UK, who have a legal obligation to take all reasonable precautions to avoid any problem with or contamination of a food product. This Standard from the British Retail Consortium and The Institute of Packaging aims to ensure that all packaging suppliers are aware of and are able to meet their obligations. It has been written with the intent that food packagers and manufacturers of food packaging materials are aware of their obligations, and to assist in the fulfillment of legal obligations and protection of the consumer. The Scheme has been developed by the British Retail Consortium and The Institute of Packaging - two highly regarded trade organizations. It is envisaged that this Standard will become the benchmark by which all audits are undertaken. Paperback, 56 pp.
ISBN 0117028428 $162.00

BRC / FDF Technical Standard for the Supply of Identity Preserved Non-Genetically Modified Food Ingredients and Products.
BRC & Food and Drink Federation (FDF). 2001.
This essential Standard sets out general guidance to enable crop and food manufacturers to establish, evaluate or verify an 'Identity Preserved' scheme, that facilitates the supply of non-genetically modified crops. Essentially a guide to best practice, the aim of this publication is to focus resource at critical areas thus enabling crop and food manufacturers to exclude GM soya and maize from the Identity Preserved supply. Key features: A single comprehensive standard covering the whole supply chain, from seed to consumer • Clearly lays down the requirements for all those involved in the supply chain • Provides confidence for industry and the consumer • wide acceptance of the system will permit a reduction in inspection levels, and hence costs • It will allow smaller companies with restricted resources to supply non-GM materials • Provides a framework for Identity Preserved systems for other commodities • Facilitates international trade in non-GM materials.
ISBN 0117028495 $162.00

The BSE Report.
Inquiry into the emergence and identification of Bovine Spongiform Encephalopathy (BSE) and variant Creutzfeldt-Jakob Disease (vCJD) and the action taken in response to it up to 20 March 1996.
Lord Phillips of Worth Matravers. 2000.
This sixteen volume set reports on the 'mad cow disease' epidemic in the UK. Complete boxed set of all 16 volumes in slipcase.
Print: ISBN 010 55 6986 0 $585.00
Complete CD set of printed volumes plus 11 CDs of evidence: ISBN 0 10 5569879 $360.00
Volumes may also be purchased separately:
• Vol. 1 Findings and Conclusions. ISBN 010 556970 4 $64.00
• Vol. 2 Science. ISBN 010 556971 2 $46.00
• Vol. 3 The Early Years 1986-88. ISBN 010 556972 0 $44.00
• Vol. 4 The Southwood Working Party 1988-89. ISBN 010 556973 9 $28.00
• Vol. 5 Animal Health 1989-96. ISBN 010 556974 7 $60.00
• Vol. 6 Human Health 1989-96. ISBN 010 556975 5 $126.00
• Vol. 7 Medicines and Cosmetics. ISBN 010 556976 3 $60.00
• Vol. 8 Variant CJD. ISBN 010 556977 1 $40.00
• Vol. 9 Wales Scotland and Northern Ireland. ISBN 010 556978 X $40.00
• Vol. 10 The Economic Impact and International Trade. ISBN 010 556979 8 $28.00
• Vol. 11 Scientists after Scouthwood. ISBN 010 556980 1 $56.00
• Vol. 12 Livestock Farming. ISBN 010 556981 X $25.00
• Vol. 13 Industry Processes and Controls. ISBN 010 556982 8 $36.00
• Vol. 14 Responsibilities for Human and Animal Health. ISBN 010 556983 6 $44.00
• Vol. 15 Government and Public Administration. ISBN 010 556984 4 $36.00
• Vol. 16 Reference Material. ISBN 010 556985 2 $74.00

Cancer Statistics Registrations.
Registrations of Cancer Diagnosed in 1993, England and Wales.
Series MB1 Office for National Statistics 26.
Great Britain Office for National Statistics. 1999.
Paperback, iv + 72 pp.
ISBN 0116212470 $60.00
Cancer Survival Trends in England and Wales, 1971-1995 Deprivation and NHS Region.
Michel P. Coleman, Great Britain Office for National Statistics. 1999.
This publication represents the most comprehensive analysis of cancer survival trends and patterns throughout England and Wales. Three million cancer patients survival trends were analyzed for this report and findings are displayed within clearly presented tables, charts and graphs which are broken down by age, sex, geographic region and socioeconomic status for 58 different cancers in adults and children. The report reveals the extent of the "deprivation gap" in survival between cancer patients living in affluent areas and those in deprived areas. Hardcover, 695 pp. or CD-ROM.
Print: ISBN 0116210311 $234.00
CD-ROM: ISBN 1857743245 $70.00
Book & CD-ROM combo: ISBN 0116212438 $369.00



Cancer Trends in England and Wales 1950-1999.
Mike Quinn et al. 2001.
This book brings together into one comprehensive reference source information of the cancer burden in England and Wales, making this report essential reading for cancer specialists, researchers and medical librarians. The report provides both summary and more detailed information on trends in cancer incidence, mortality, prevalence and survival at the national and regional levels during the second half of the last century. For example, "Between 1950 and 1999, the proportion of deaths due to cancer rose from 15 to 27 per cent for males and from 16 to 23 per cent for females." The summary chapter ensures that readers who only require an overview can quickly access information on the incidence of and mortality from all malignant cancers for nine of the most important individual cancer sites, the prevalence of major cancers, and details of survival trends by age, sex and socio-economic deprivation. Researchers will then benefit from the report detailed results on incidence, mortality, prevalence and survival which are presented in 20 separate chapters for each of the main cancer sites which together constitute almost 90% of all malignancies in both males and females. Each chapter also includes a brief description of the epidemiology of the particular cancer, its global significance, known or suspected causes, risk factors and treatment. It also features a chapter on several types of childhood cancer which together constitute 82% of all childhood cancers.
ISBN 0116213930 $100.00
The Challenge of Hospital Acquired Infection.
The National Audit Office (NAO). 2001.
This title considers the combating of infections caught by patients while being treated in hospital. It highlights the issues of which all NHS employees must be aware in the fight to reduce the severity of this problem. NAO Director Karen Taylor, principal author of the book, says: 'Hospital acquired infections are a serious issue for patients and staff. Our report last year had a marked impact in raising the profile of this problem which, according to estimates, each year costs the NHS some £1 billion and leads to the deaths of as many as 5,000 patients. This book reviews the findings and the numerous departmental initiatives taken since then. In the light of these, it examines the information and resources needed by infection control teams and clinicians. And it details the actions which those who work in hospitals can and should take to help prevent and control these infections.' Providing an overview of developments since the NAO report published 18 months ago, this title also highlights the recommendations of the Public Accounts Committee in November 2000 and the Government's response in February 2001 which contained new NHS initiatives. The book also presents material from the NAO's June 2000 conference on hospital acquired infection, at which the Government launched its UK Antimicrobial Resistance Strategy and Action Plan.
ISBN 0117028584 $22.00
The Chemical Incident Management Handbook.
Practical Help for the Health and Emergency Services.
Guys & St. Thomas Hospital Trust Medical Toxicology Unit Chemical Incident Response Service. 2000.
This Handbook provides practical hazard information summaries that enable you to take the best course of action when an incident occurs. The chemical hazard summaries within the Handbook cover: Key points for incident management • First aid advice • Detailed chemical information • Summary human toxicology data • Effects by routes of exposure from respiration, skin, eye and oral • Management by route by exposure • Environmental summary information. The Handbook also contains information on admission criteria for patients to hospital and the summaries of the requirements for cleaning up chemical spills. With 95 specific chapters on individual chemicals and with some reference to over 300 other chemicals in the text, this practical guide, targeted for the use of healthcare professionals and emergency service personnel, details the toxic dangers and clinical requirements of a chemical incident. Paperback.
ISBN 0113222521 $108.00

Chemically-defined Flavouring Substances.
Council of Europe. 2000.
This authoritative and comprehensive reprint of the 4th edition of the "Blue Book" contains the toxicological evaluation of 899 flavoring substances. These have been classified according to their chemical structure and divided into: substances which may be added to food for human consumption without hazard to public health; and flavoring substances that are temporarily acceptable in foodstuffs, that is to say, those for which there does not exist enough toxicological data for a definite safety-in-use assessment. The book includes the five modifications to the 4th edition (1992) so far adopted by the Committee of Experts on Flavouring Substances of the Council of Europe. Safety-in-use criteria are also recommended which should be met by the manufacturers of flavoring substances. Hardback, 612 pp.
ISBN 9287144532 $132.00

Child Abuse Interventions.
A Review of Research Literature.
David Gough. 1993.
Paperback, 314 pp.
ISBN 0113216424 $50.00
Child Abuse on the Internet.
UNESCO. 2001.
Child pornography and the sexual abuse of children through misuse of the media and the Internet are complex yet closely related issues. Not only do they necessitate complex solutions, they also demand a social response from all sectors of society. This volume records the response of these various sectors and shows how individuals and organizations can co-operate effectively. It describes the major work being carried out in some African countries, in Albania, Brazil, Guatemala, the Philippines, and Sri Lanka, and shows the efforts being made to share information and build networks. A reference section provides the site locations of organizations that have made significant advances in protecting children online. In addition, this book offers an action plan to encourage cooperation with others in the fields in a coherent and coordinated manner.
ISBN 9231037285 $46.00
Children in the New Millennium.
Environmental Impact on Health.
United Nations Environment Programme, UNICEF & World Health Organization. June 2002.
Children throughout the world continue to be exposed to a series of environmental threats to their health, physical and mental development, and even their survival. Preliminary estimates suggest that up to one-third of the global burden of disease can be contributed to negative environmental indicators, such as polluted water and air. This book from the UN Environment Programme (UNEP), the UN Children's Fund (UNICEF) and the World Health Organization (WHO) concludes that prevention is the only sustainable solution, and that a healthy future for children around the world can only be ensured by safeguarding the environment they live in.
ISBN 9241590165 $20.00

Comparative Study on Borderline Products and Borderline Situations.
Council of Europe Publishing. 2001.
The main purpose of the survey is to clarify the situation in various European countries as regards the classification of certain categories of products, known as "borderline" or "fringe", and to establish whether the latter should be classified as cosmetic products or as pharmaceuticals, medical devices, biocidal products, foodstuffs or general consumer products. The national delegations which took part in this exercise considered it important to obtain a clearer picture of the "classification situation" of these categories in Europe. This has a bearing on the responsibilities of their national authorities in ensuring at all times that their legislation sufficiently protects the consumer's health when using different kinds of products. Paperback, 101 pp.
ISBN 9287144508 $38.00
Cosmetlex.
The Rules Governing Cosmetic Products in the European Union.
European Commission. 2000.
In the early 1970's, the Member States of the EU decided to harmonize their national cosmetic regulations in order to enable the free circulation of cosmetic products within the community. As a result of numerous discussions between experts from all member states, Council Directive 76/76/EEC was adopted. The principles laid down in the Cosmetics Directive take into account the needs of the consumer while encouraging commercial exchange and eliminating barriers to trade. For example, if a product is to move freely with in the EU, the same labeling, packaging and safety regulations must apply. Paperback, 3 volumes: Vol I: 74 pp, Vol. II: 187 pp, Vol. III: 74 pp.
ISBN 011986147X $65.00
---
Prices may fluctuate with the Currency Exchange Rate
Back to Home | Company Info | Ordering | Shipping & Tracking | Publishers | Meetings | Search | Site Index | Feedback