1911 North Duncan Road, Champaign, Illinois 61822 USA
email:scott@balogh.com | http://www.balogh.com
---
Books on Orchids
---
If you enjoy orchid artwork, just click on this link! Many of these rare orchid books contain photos not available on the Internet. Some Dell laptop deals offer displays which show these photos in high definition quality.
We are offering a large, more than 450 book, orchid library, including microfiche and color slides. This collection includes many rare books as well as most orchid floras from around the world, biology, taxonomy, etc. If you are interested, please email Pam or call us at +1 217-355-9331. Prices below are not up to date due to the ever changing currency exchange rates. For a partial listing of these titles, click on this link!
Flora of Ecuador, Volume 84: Orchidaceae: Masdevallia and Affiliates. Calaway H. Dodson and Carlyle A. Luer. 2009. ISBN: 9789185529155. 398 pp, 5 color plates, 62 line illustrations. Softcover. $125.00

Orchids of Costa Rica, Vol. 1-5 (Spanish-English). 2nd edition. 2009. J. Francisco Morales. The orchid family, whose scientific name is Orchidaceae, is the most numerous of all the world's plants, with nearly 20,000 species. Costa Rica is no exception, since orchids are the largest plant family in the country with between 1,300 and 1,400 known species. This 5 volumes set is a series of field guides on Costa Rica's orchids and provides a tool for the visual identification of most species. Each species is illustrated with one or several photographs of the flowers and other important details, such as their growth habit and color variations. approximately 800 pages in the 5 volume set. paperback. $245.00
Orchids. The Pictorial Encyclopedia of Oncidium. Harry Zelenko. More than 800 orchid plants and flowers in the Oncidium alliance are illustrated. This new edition includes more than 850 full-color, actual-size precise illustrations of orchid plants and flowers in 65 sections plus essays on each group by renowned botanical experts specializing in this unique spectrum of Oncidium. $146 pp. $65.00
Native Ecuadorian Orchids. Cal Dodson. volumes 1-5 (will have 15 volumes when complete). $500 for volumes 1-5.
Volume 1 : AA-Dracula. 200 pp. 370 illustrations.

Volume 2 : Dresslerella-Lepanthes. 200 pp. 480 illustrations.

Volume 3 : Lepanthes-Oliveriana. 230 pp. 590 illustrations.

Native Ecuadorian Orchids Volume 4 : Oncidium-Restrepiopsis. 230 pp. 580 illustrations.

Volume 5 : Rodriguezia-Zygosepalum. 300 pp. 536 illustrations.

Flora Malesiana: Orchids of New Guinea Vol. V - Genera Pachystoma to Zeuxine (excluding Dendrobiinae s.l.). Author(s): A. Schuiteman, E.F. de Vogel. Version: 1.0. Platform(s): Hybrid CD. Available: Mac and Windows CD newly available. ISBN: 978 90 75000 93 1. $85.00
This CD-ROM, the fifth volume in the series Flora Malesiana: Orchids of New Guinea, treats 46 genera (Pachystoma to Zeuxine) with 478 species and varieties. Among the major genera are Peristylus, Phreatia, Plocoglottis, Spathoglottis, Taeniophyllum and Trichotosia. Genera of horticultural importance include Paphiopedilum, Phalaenopsis, Renanthera, Spathoglottis and Vanda. For every species a full description is given, with data on distribution (including maps in full color), synonymy, cultivation, ecology, typification, classification, references, etc. An impressive collection of color photographs and drawings, both published and unpublished, complements the texts.
Several leading botanical institutes, such as the Royal Botanic Gardens, Kew, the Royal Botanic Gardens, Edinburgh, the Herbarium Bogoriense, Bogor, and the National Capital Botanic Garden, Port Moresby, as well as many well-known photographers have contributed to make this highly praised CD-ROM series a must for all who are interested in the orchids of New Guinea and Southeast Asia. Available: Windows 98/Me/XP/Vista; Mac OS 8.6-9.x or Mac OS X 10.1 or higher. Other CDROMs from ETI: approximately $90.00, varies with exchange rate.
Flora Malesiana: Orchids of New Guinea Other volumes available
Orchids of the Philippines



Field Guide to the Wild Orchids of Texas. Paul Martin Brown. 2008. This valuable and comprehensive resource for the orchid taxonomist, dedicated enthusiast, or casual hiker and lover of the outdoors covers more than 50 species and orchid varieties, several of which are new to Texas and, in some cases, even brand-new to the orchid world. It also includes numerous color and growth forms. This handy guide includes all the essential tools--field photographs, diagnostic line drawings, and useful reference keys--to quickly and easily identify an orchid discovered in the wild. A checklist of the state's wild orchids and charts listing optimal flowering times and distribution by region make this guide user-friendly year-round. In addition to the many insider orchid-hunting tips, botanist Paul Martin Brown recommends trip itineraries offering the fullest viewing of native orchids at their peak seasons. illustrated. 336 pp. $29.95 inquire about Paul Brown's other American orchid field guides

Ophrys: The Bee Orchids of Europe. H.A. Pedersen & N. Faurholdt. 2007. The genus Ophrys constitutes one of the most diverse and biologically fascinating groups of plants to be encountered in Europe, particularly the Mediterranean. This book offers an easy to use, comprehensive, introduction to the genus, throughout its European range, It can be used as a field guide, with keys, descriptions and numerous colour photographs, as well as a standard reference, with chapters on structure, biology, evoltuion and conservation. The classification is based on a broad species concept, offering an alternative to the finely split classifications of the genus that prevail in most recent field guides. Notes on hardy orchid cultivation, by Richard L. Manuel, and a chapter of ideas for field trips, complete the picture. 297pp. 234 x 156 mm. 226 col. photos. Line drawings. Distribution maps. Flexicover. ISBN 978 1 84246 152 5 $66.00
The Genus Cymbidium. David Du Puy & Phillip Cribb. Due January 2008. Cymbidiums are among the most important and popular orchids in horticulture. Starting in late Victorian England, the variety of form and colour in the species encouraged hybridisation that has provided a great diversity of novelties for the nursery trade over the years. They are versatile plants, marketed as cut-flowers, buttonholes and as pot plants, producing many large, long-lasting flowers. Cymbidium growing in the Far East can be traced back to the time of Confucius (about 500 BC), but the first species were only introduced to Europe and China at the end of the 18th century. Relatively few species were seen in cultivation in Britain until the time of the Industrial Revolution, which provided both the leisure time and the money for an explosion of interest in orchid growing. From the mid-19th century onwards, extensive exploration and collection of new species took place. The genus Cymbidium currently comprises some 52 species distributed throughout south and east Asia, the Malay Archipelago and north and east Australia.
A revised classification of the genus and an assessment of specific delimitation and nomenclature within the genus are presented in this monograph. The evidence from DNA data has clarified the relationships and classification of the species. The resurgence of interest in Cymbidium species has highlighted the taxonomic questions that still remain in the genus. The recent rush of new species names in the literature is assessed and nomenclature is clarified. Extensive fieldwork in tropical and subtropical Asia, the Malay Archipelago and Australia has allowed the examination of many species in their wild habitats, contributing valuable information concerning the ecology, natural variation of wild populations and conservation assessments for Cymbidium species, and are provided here for the first time. Cymbidiums are easy to grow, undoubtedly one of the main reasons for their popularity in horticulture. Suitable environmental conditions and composts for cultivation are recommended, while detailed cultivation techniques for the species are discussed by Michael Tibbs, a leading commercial orchid grower. ISBN: 978 1 84246 147 1. 369 pp., over 200 maps, line drawings, color photographs and 38 full color paintings. Hardcover. $95.00
Orchids of Madagascar. 2nd Edition. Johan and Clare Hermans, David Du Puy, Philip Cribb and Jean Bosser. 2007.
Almost 1000 orchid species comprise 10% of Madagascar's higher plant diversity; a remarkable 85% of these unique to the island. Madagascar's orchids are highly desirable for their beauty and strangeness, and many now are under enormous threat from deforestation and industrialization. The new edition of the classic Orchids of Madagascar now illustrates over 250 orchids, and line drawings of new species are added in an appendix. Almost 100 changes to nomenclature are included and species descriptive notes extended to provide a wealth of information on distribution, habitat and flowering times. All the most essential references are included in the bibliography, with new entries accompanied by concise annotations. This is still the one essential book for botanist, orchid enthusiast, ecologist, environmentalist and field worker who need to have the complete picture on Madagascar's orchid flora. ISBN: 9781842461334. 464 pp. Hardcover. $150.00
Growing Orchids from Seed. Philip Seaton & Margaret Ramsay. 2005. Written for the amateur and the professional without access to sophisticated laboratory equipment and chemicals, 'Growing Orchids from Seed' contains all you need to know to become an expert! Careful guidelines are given for buying and making equipment, pollinating orchid flowers, harvesting and storing seed, successful germination, transplanting seedlings, and growing them on to healthy plants. 88pp. 193x240mm. Fully illustrated in colour. Landscape format hardback. ISBN 1 84246 091 1. $20.00
Orchid Conservation. K. Dixon, S. Kell, R. Barrett & P. Cribb. 2003. Thirty-five of the world's most eminent orchid scientists and conservationists have collaborated to explain how orchid conservation is achievable, and how depleted orchid populations can be rebuilt, monitored and protected for future generations. This book is illustrated throughout and covers threats to conservation, orchid taxonomy and genetics, population biology, education and much more. 433pp. 255 x 185mm. Hardback, with jacket. ISBN 983 812 078 2. $90.00 being reprinted
Slipper Orchids of Vietnam - with an Introduction to the Flora of Vietnam. Leonid Averyanov, Phillip Cribb, Phan Ke Loc and Nguyen Tien Hiep. 2003. An excellent new study in which the geology, climate and vegetation of Vietnam are explored specifically in relation to the Paphiopedilum species known to grow there. The main text provides comprehensive accounts of the history, nomenclature, and relationships of each of the 22 species and natural hybrids found within the country, as well as providingthe first detailed accounts of their habitats, biology and ecology. The book is most attracively illustrated, with 217 figures, many of which are colour photographs. 308 pages. Colour photographs. Line drawings. Distribution maps. Hardback, with dust jacket. ISBN 1 84246 047 1. $74.00
Corybas West of Wallace's Line. by John Dransfield et al. London: HMSO, 1986. A synopsis of the 33 taxa of the genus Corybas, or 'helmet' orchids recorded in Asia and Western Malesia, reprinted from Kew Bulletin 41(3). 38 pp, incl. 6 colour plates & 15 illustrations. Paperback. $22.00
Dendrochilum of Borneo. Jeffrey J Wood. 2001. Dendrochilums are a conspicuous element of the lower montane forest environment in Sumatra, Borneo and the Philippines. Of the estimated 263 species in the genus, 81 (87 including subspecies and varieties) are currently recognized from Borneo. This volume provides keys, detailed descriptions, distributional and habitat notes, and line illustrations of all the species native to the island. Morphology, phylogenetics, ecology, biogeography and endemism are discussed in detail; 24 colour plates depict 54 taxa. Hard bound. 254mm by 184mm, 388pp. ISBN 983 812 047 2. $108.00
Genus Paphiopedilum. 2nd edition. Phillip Cribb. 1998. In this revised account, the author has synthesized the recent evidence to produce a classification of the genus that is first and foremost usable, and also consistent with the evidence available. Chapters on the hybridization, cultivation (by Michael Tibbs), and conservation are also included. Each species treatment has a detailed description including line figures, color plates, distribution map, original citations, synonymy and natural history notes. 427 pp. completely illustrated, hard cover, ISBN 983-812-023-5 $110.00 being reprinted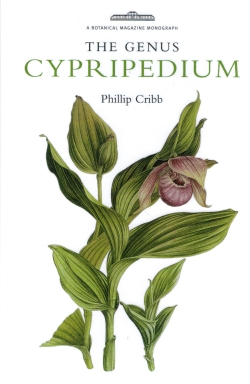 The Genus Cypripedium. A welcome reprint of this important monograph on the temperate slipper orchids by distinguished author, Phillip Cribb. The text covers their history, biology, evolution, conservation, cultivation and classification, is taxonomically arranged, and is enhanced by a series of 27 superb colour paintings by Kew botanical artists. 301pp. 27 color plates. 98 col. photos. 51 line drawings. Hardback, with dust-wrapper. ISBN 0 88192 403 2. $120.00

Genus Coelogyne. A Synopsis. Dudley Clayton. 2002.

This account attempts to summarize all of the available information on the genus. The author re-assesses sectional limits, and provides keys to the sections, species and infraspecific

taxa. Distribution maps are provided for each section. He also provides a comprehensive account of each species that includes a full description, distribution, habitat, altitudinal range, flowering time and taxonomic notes. Most of the species are illustrated by one or more color photographs and a black-and-white line drawing of the lip, a critical feature in the genus, is provided for almost every species.

Hardcover, x + 315 pp.

ISBN 9838120480

$84.00

The Genus Pleione. P Cribb and I Butterfield. due 1999. Pleiones, popularly called 'Napalese crocuses', or 'window-sill orchids' are amongst the easiest orchids to grow. In recent years this delightful genus has undergone a remarkable resurgence, with the introduction of new species and spectacular hybrids, and a new-found place in alpine gardens. Written by Philip Cribb, Curator of the Orchid Herbarium at Kew, and Ian Butterfield, a nurseryman awarded Gold Medals at the Chelsea Flower Show for his work in breeding, raising and displaying pleonies, this is the first fully comprehensive account of their biology, classification and cultivation. A comprehensive listing of hybrids registered to date is provided, together with a cultivation calendar which experienced growers and novices will find invaluable. Highly authoritative, richly illustrated and printed in full colour throughout The Genus Pleione is a book professional botanists, orchid growers and alpine gardeners should not be without. x + 165pp. 254 x 184mm. hard cover + dust jacket. ISBN 983 812 022 7. $66.00

Field Guide to Ethiopian orchids. Sebsebe Demissew, Phillip Cribb and Finn Rasmussen. 2004. Ethiopia's 169 species of orchids are still poorly understood, and many are rare and most are terrestrial growing in grasslands and woodlands. And the 27 epiphytic species are particularly threatened by widespread felling of Ethiopia's remaining woodlands and forest. Authoritative and practical Field Guide to Ethiopian Orchids highlights the importance of orchids in plant conservation and how the creation of protected orchid-rich habitats can safeguard other plants and animals in those places. Nearly all species are illustrated in colour with distribution maps, line drawings and keys to aid identification. Detailed descriptions provide invaluable information on habitat and conservation status, and introductory chapters cover geography, geology, climate and vegetation types. 304pp. 215 x 124mm. Flexi cover. ISBN 1-84246-071-4. $60.00

Orchids of Sarawak. Teofila E Beaman, Jeffrey J Wood, Reed S Beaman and John H Beaman. 2001. Orchids of Sarawak includes records of all orchids known to have been collected in Sarawak over the past nearly 160 years since the first scientific collections were made there by Hugh Low. Some 7000 permanently preserved specimens provide the basis for the enumeration of over 1000 species in 120 genera now known to occur naturally in the State. About 340 species have been added to the previously known orchid flora of Sarawak. Among the orchids listed are 127 known only from this area, and 302 additional species that have been found only in Borneo. On the basis of the IUCN Red List categories 74 orchids are classified as critically endangered, 39 as endangered and 13 as vulnerable in Sarawak. Over 250 colour photographs and line drawings lavishly illustrate the text. ISBN 983 812 045 6. Hard bound. 254mm by 184mm, 600pp. $132.00

Orchids of Sumatra. J B Comber. 2001. This book recognizes 139 genera and 1118 species of orchids occurring in Sumatra and its surrounding islands. Each species is completely described, with technical terms avoided as much as possible. The comprehensive account includes 664 colour photographs, mostly taken of plants growing in the wild. They have been placed close to the descriptions, to facilitate identification. The photographs are supplemented with 70 line drawings. Details of the ecology and altitudinal ranges are provided and these will be particularly useful to orchid growers. ISBN 1 84246 027 7. Hard bound. 254mm by 184mm, 1036pp. $190.00

Orchids of Borneo
Vol. 1. Introduction and a Selection of Species. by C.L. Chan, A. Lamb, P.S. Shim & J.J. Wood. The Sabah Society and Kew: Bentham-Moxon Trust, 1994. After an extensive introduction this describes 100 species, many in well-known horticultural genera. All are described, with notes on habitat and ecology and on distribution in Borneo and elsewhere. All species described are illustrated by line drawings and most by colour photographs, of which there are 182 in 22 plates. xviii + 322 pp. 104 line drawings & 22 colour plates. Hard Cover. ISBN 967 999473-2 $78.00
Vol. 2 . Bulbophyllum. by J.J. Vermeulen. Kew: Bentham-Moxon Trust, 1991. This volume is devoted to the genus Bulbophyllum, which with well over 200 species is the largest orchid genus in Borneo. All taxa are illustrated, 80 by colour photographs. x + 342 pp. Hard Cover. ISBN 0 950487 69 4 $70.00
Volume 3. Dendrobium, Dendrochilum and others. 1997. contains species citations, descriptions, habitat & ecology, distribution, notes, derivation of name. 299 pp., 26 color plates with 3-6 photos per page. 100 full page line figure plates. hardcover. ISBN 967-99947-5-9. $70.00
Vol. 4: Revised Classification & Selection of Species. J.J. Wood. 2004. the 4th volume of this series revises the classification of Borneo orchids, brings the nomenclature in prior parts up to date, and describes and illustrates a further 100 taxa from a wide array of genera. 326pp. 262 x 190mm. Hardback, with jacket. $90.00
A Checklist of the Orchids of Borneo. by J.J. Wood & P.J. Cribb. Kew: Royal Botanic Gardens, 1994. A checklist of all the known species of orchids occurring in the whole island of Borneo, with accepted names, place and author of publication, and notes on habitat and distribution. Several new species are described. Many species are illustrated in colour or by line drawings. xii + 409 pp. Many line & colour illustrations. Soft Cover. ISBN 0 947643 59 1 $70.00
Orchids of Vanuatu. by B.A. Lewis & P.J. Cribb. Kew: Royal Botanic Gardens, 1989. The first comprehensive account of the orchids of the S.W. Pacific archipelago formerly known as the New Hebrides. 158 spp. are recognized. 38 colour photos in 8 plates and 31 full page line drawings by Sue Wickison. 171 pp. Soft Cover. ISBN 0 94764316 8 $30.00
Orchids of the Solomon Islands and Bougainville. by B.A. Lewis & P.J. Cribb. Kew: Royal Botanic Gardens, 1991. A comprehensive account of the orchids of this Pacific Island group. 285 specimens are recognized; 95 colour photos in 16 plates and 80 full page line drawings by Sue Wickison. ix + 335 pp. Soft Cover. ISBN 0 947643 27 3 $58.00
Orchids of Java. by J.B. Comber. Kew: Bentham-Moxon Trust, 1990. An account of all the orchids (130 genera, 731 species) known to occur wild in this most important island of Indonesia. Many of the species are illustrated in colour. vi + 407 pp. Hard Cover. ISBN 0 947643 21 4 $60.00
Orchids of Samoa. by P. Cribb & W.A. Whistler. 1996. Kew: Royal Botanic Gardens. This orchid flora, comprising 101 species in 47 genera, has strong affinities with those of neighboring islands, particularly with New Guinea. This account is the first since that by Schlechter in 1911. Introductory sections deal with the the geography, vegetation and botanical exploration of the islands, and with the structure of orchids. There is a key to the genera, and keys to the species within each genus. 27 species are illustrated by line drawings, and there are 24 pages of colour photographs of 81 species. This is a detailed guide, including keys, descriptions, synonymy, distribution, habitat, and collections. vii + 144 pp. many line figures and 24 color plates. softcover. $38.00
Slipper Orchids of Borneo. P J Cribb. Slipper orchids, of the genus Paphiopedilum, rank with the pitcher plants as some of Borneo's most spectacular plants. Sadly, many are now rare in the wild, and threatened with extinction - and we still know very little about them. In this book the history, taxonomy, distribution and biology of these extraordinary plants are described. The text is illustrated throughout, almost entirely in colour, with all the species described being pictured. x + 120pp. 215 x 152mm. Paperback. ISBN 983 812 018 9. $30.00
The Plants of Mount Kinabalu. 2. Orchids. by J.J. Wood, R.S. Beaman & J.H. Beaman. Kew: Royal Botanic Gardens, 1993. Mount Kinabalu, in Sabah, Malaysia, is an isolated mountain with a known orchid flora comprising 686 species in 121 genera. All are described in this work, including several species new to science, and many are illustrated either in colour or by line drawings. Keys are provided for identification. The book will allow the many visitors to the mountain to name the orchids they see and will, it is hoped, assist in the conservation of this extremely rich site for future generations. xii + 411 pp. 84 colour plates & 51 line illustrations. Soft cover. ISBN 0 947643 46 X $70.00
Orchids of Mexico. CDROM. Eric Hagsater. 2007. The Mexican orchids include 164 genera and over 1200 species; this is a photographic album of 1288 orchid species with Latin names only (a few of these species lack a photograph as only the name is listed). It is not a CDROM version of the book. This is not an autorun CDROM! It has 2 directories, one for PC and one for MAC. You must go to either directory and click on the executable file in that particular directory in order to start the catalog. $50.00
Orchid Flora of Puerto Rico and the Virgin Islands. By J. D. Ackerman. 1995. The Orchidaceae of these islands are described and illustrated with 97 plates in this new treatment, which includes 145 species in 65 genera. Order No. MEM 73. ISBN 0-89327-394-5 (Hardcover), 203 pages, $35.00
Brown, PM 1997. Wild orchids of the Northeastern United States. A field guide. Latin & common names, distribution, habitat, flowering time, short description, short natural history, distribution maps, line drawing, and color photos. 236 p. (first published in 1993 as A field and study guide to the orchids of New England and New York. Corrections and minor additions were added in 1994. Color photos added and extensive revisions. $19.95
Chapman, William K. 1996. Orchids of the Northeast: A Field Guide. review of more than 60 species found in New York and New England; keys, glossary, updated nomenclature, 60 color photos. 200 pages. 15 line figures, 1 map. hardcover. $45.00
Coleman, R.A.. 1995. The wild orchids of California. hardcover.. 201 p.. 39 color plates with 3-4 color photos each. . distribution, morphology, 11 genera, herbarium documentation, descriptions, synonymy, keys to species. $45.00
Gupton, O. et al. 1987. Wild orchids of the Middle Atlantic States. descriptions and figures. 110 p. ca. 40 color photos. $25.00
Delamain, J. & C. Fillon-Delamain. 1996. Les Orchidees d'un Coteau Charentais. contents: Histoire, Les hybrids, Orchidees de Charente, Calendrier de floraison des orchidees du coteay, pollinisateurs, exigencies ecologiques que leur impose leur developpement associe a des mycorchizes, photographie. 128 p. 115 color plates. $85.00
Arbeitskreis Heimische Orchideeen Sachsen-Anhalt. 1996. Die Orchideen Sachsen-Anhalts. Verbreitungsatlas. This is a distribution study of all known orchids growing in the German Sachsen region. Inhalt: Verzeichnis der Kartierungsmitarbeiter · Allgemeine Bemerkungen · Das Untersuchungsgebiet · Geschichte der Kartierung · Inhalt und Form der Kartierung · Verbreitungskarten · Auswertung und Statistik · Bildteil· Register der wissenschaftlichen und deutschen Artnamen 76 pp., 47 maps, 24 color photos. $30.00
Kuempel, H. 1996. Die wildwachsenden Orchideen der Rhoen. Lebensweise, Verbreitung, Gefaehrdung, Schutz. The Rhoen area of Germany covers the states of Thueringen, Hessen and Bayern. Discusses ecology, protection, habitat, and each species has a full description including variability, flowering time, endangered status. etc. 105 mostly color photos, 3 maps. 140 p. paperback. $30.00
From the National Botanic Garden of Belgium
ICONOGRAPHY ORCHIDS
Orchidaceae Belgicae by E. Klopfenstein & P. Toussaint
Vol. 1 Orchidaceae Belgicae (1983) 40 cm., 12 plates full color reproductions of water paintings"
Vol. 2 Orchidaceae Belgicae (1984) 40 cm., 12 plates full color reproductions of water paintings"
Vol. 3 Orchidaceae Belgicae (1985) 40 cm., 12 plates full color reproductions of water paintings"
Vol. 4 Orchidaceae Belgicae (1986) 40 cm., 12 plates full color reproductions of water paintings"
Vol. 5 Orchidaceae Belgicae (1987) 40 cm., 12 plates full color reproductions of water paintings"
Vol. 1-5 Complete series Orchidaceae Belgicae (1983-1987) 40 cm., 60 plates full color reproductions of water paintings $250.00
West European Orchids by E. Klopfenstein (1994)
Vol. 1 West European Orchids 40,5 cm., 12 plates full color reproductions of water paintings
Vol. 2 West European Orchids 40,5 cm., 12 plates full color reproductions of water paintings
Vol. 3 West European Orchids 40,5 cm., 12 plates full color reproductions of water painting
Vol. 4 West European Orchids 40,5 cm., 12 plates full color reproductions of water paintings
Vol. 5 West European Orchids 40,5 cm., 12 plates full color reproductions of water paintings
Vol. 1-5 Complete series West European Orchids by E. Klopfenstein (1994) 5000 40,5 cm., 60 plates full color reproductions of water paintings $250.00; Vol. 1-5 Complete series West European Orchids in deluxe-box by E. Klopfenstein (1994) 40,5 cm., 60 plates full color reproductions of water paintings $295.00
---
other titles: we sell all Timber Press books, if you don't see the one you want here, just email Pam
Florida Orchid Growing Month by Month. Martin Motes. 2008. Monthly guides to orchid growing in Florida, with practical solutions for common problems, pest control, and disease control. Softcover. $20.00
Moth Orchids. The Complete Guide to Phalaenopsis. By Steven A. Frowine. due September 2008. With their refined beauty and elegant flower form, moth orchids (members of the genus Phalaenopsis) are often referred to as the basic black of the orchid world. In fact, moth orchids are the most popular orchids in the world, accounting for a staggering 75 percent of all orchid plant sales. More than merely beautiful, they are also among the easiest orchids to grow, whether in greenhouses, on windowsills, or under artificial lights, and the individual flowers can last for up to three months in pristine form. These appealing traits make moth orchids the first choice of every orchid fancier, from rank beginners to dyed-in-the-wool fanatics. Most flower lovers are familiar with the elegant white, pink, and striped hybrids, but a revolution in phalaenopsis breeding has resulted in an entirely new, diverse, and wonderful array of flower colors and patterns previously unimaginable. Professional horticulturist and orchid expert Steven A. Frowine, author of Miniature Orchids (Timber Press, 2007), focuses on these new stars while also providing a detailed look at the classic hybrids and species. Readers will be enticed by the book's 365 lavish color photographs and gratified by the wealth of practical advice on selecting and buying moth orchids. Most importantly, Frowine shares his secrets on how these glorious plants can be grown to perfection, with recommendations about light levels, potting media, watering, and feeding. Especially useful are his clearly illustrated step-by-step directions on how to repot, trim, and propagate moth orchids. If you're a novice orchid lover, this book will arm you with all the knowledge you need to enjoy moth orchids' magnificent blossoms in your home. If you're a phalaenopsis fanatic, you'll be thrilled to see just how exciting the world of moth orchids has become. 204 pp. hardcover. 328 color photos. $39.95.
Huntleyas and Related Orchids. By Patricia A. Harding. due November 2008. Revered by avid orchid collectors for its delightful, star-shaped flowers, Huntleya is a small group of orchids found low in the forest. Besides their striking colors — from deep blue to waxy red, royal purple to almost black — flowers of this group are known for their distinctive shapes, patterns, and textures. As appealing as these lovely tropical orchids are, their identification has been confused since the first species was described in the mid-1800s. Recent DNA studies have led to a clearer understanding of relationships and, as a result of this clarity, it is now possible to sort out the taxonomic problems and identify the characteristics that set species apart. In this first book devoted to the Huntleya alliance, author Patricia Harding presents evidence from the scientific literature, other growers, and her own experience that will enable orchidists everywhere to identify their plants and grow them successfully. 264 pp. 150 color photos. hardcover. $39.95
Tropical Slipper Orchids. Paphiopedilum and Phragmipedium Species and Hybrids. Harold Koopowitz. 2008. Distinguished by a prominent slipper-shaped lip and often decorated with warts, hairs, or stripes, the curious flowers of slipper orchids have captivated orchid growers for 150 years and may be the most popular group of orchids in cultivation. This horticultural account brims with tips and advice for growing and flowering the tropical members of this intriguing group while providing comprehensive information on their history, biology, ecology, conservation, and hybridization. Descriptions of the cultivated species and the most desirable of the thousands of hybrids are organized into horticulturally important alliances. More than 350 stunning illustrations accompany the engaging text. Hardcover. 412 pp. 364 color photos, 9 color paintings. $59.95
The New Encyclopedia of Orchids. 1500 Species in Cultivation. Isobyl la Croix. due August 2008.In this authoritative, detailed and carefully researched encyclopedia, more than 350 genera of cultivated orchids are included and 1500 species described. Infinitely varied and hugely interesting, these strikingly beautiful plants are sumptuously illustrated with approximately 1000 photographs in a reference that no orchid lover can afford to be without. Isobyl la Croix's broad knowledge of orchids is evident in this encylopedic account of the largest of all flowering plant families. Her experience gained as a scientist, plant hunter and horticulturist, along with her deep passion for orchids, inform the plant selection and add depth to the plant descriptions. The cultivation advice includes information about the orchid's native habitat including elevation, geography, and climate, that will significantly improve the chances of successful growth in the domestic environment. Recent developments in DNA analysis have led to some surprising findings with regard to the relationships between orchids and the author has undertaken an extensive effort to bring all orchid names up-to-date to reflect the latest scientific thinking and taxonomy. From Acampe to Zygostates, no other serious reference approaches the depth and authority of this remarkable book. Enthusiasts, collectors, and those starting out with orchids will value it for identification and rely on its authority whether researching the most familiar cypripedium or the most rarified angraecoid orchids. Over 1000 color photos. 524 pp. $59.95
Angraecoid Orchids. Species from the African Region. By Joyce Stewart, Johan Hermans, and Bob Campbell. These so-called 'jewels of Africa' with their sparkling flowers, distinctive growth habit and floriferous nature are much prized and this account, the first to include the angraecoid orchids of both Africa and Madagascar, is long awaited. It brings together, in a single volume, descriptions of all 690 species in this intriguing group of orchids and will be the essential reference for all angraecoid orchid enthusiasts for years to come. Stewart, Herman and Campbell have all spent time in various parts of eastern and southern Africa and precise ecological information relating to habitat, altitude preferences and flowering season of individual plants will be particularly helpful to growers. The diagnostic features of each genus are illustrated and over half the species are accompanied by exquisite photographs taken in both wild habitats and in cultivation. 432 pp. 290 color photos. $69.96

Luer, C. 1996. A Treasury of Masdevallia. with German translations by Fritz Hamer. Vol. 21. 1996. 68 pp., 15 color plates by Stig Dalström. Elephant-folio format. Thesaurus Masdevalliarum by Carlyle Luer with Willibald Königer as editor and German translator was begun in Germany in 1983. It is a modern endeavor in the style of the renowned The Genus Masdevallia by Miss Florence Woodward with reproductions of her full-color paintings between the years 1892 and 1896, the last of the famous, hand-painted, elephant-folio publications of the nineteenth century. To date, 19 fascicles of Thesaurus Masdevalliarum have been published. The nineteenth fascicle appeared in 1996. The genus Masdevallia had been and is still one of the most popular genera of orchids in cultivation. Most plants are relatively easy to grow, and their flowers are usually colorful and of fascinating shapes. The genus contains over 420 species, about 300 of which will have been included in Thesaurus Masdevalliarum. When it was announced in 1996 by the editor that the series would cease after the twentieth fascicle, numerous disappointed persons expressed their desire for the series to continue. A new series entitled A Treasure of Masdevallia, was begun the winter of 1996. In an elephant-folio format similar to that of Thesaurus Dracularum, each fascicle of this new series will contain 15 watercolor paintings of a species of the genus Masdevallia in natural size by Stig Dalström, German translations of the text by Fritz Hamer, distribution maps, and at least one black-and-white illustration. About 120 species of Masdevallia remain to be treated in the new series, and several new species continue to be added to this number every year. $70.00 other volumes available

Luer, C. 1993. Thesaurus Woolwardiae: Orchids of the Marquis of Lothian. 19th century water color paintings, includes 60 of Florence Woolward's portraits of orchids, in elephant folio format, 4 volumes of 15 plates. set price $240.00

Proceedings of the 14th World Orchid Conference. 1994. consists of the lectures given in Glasgow in 1993 from history, breeding, floras and monograph, botanical gardens, newest developments in research. 472 p. illustrated throughout with color photos and line drawings. $100.00

The Marie Selby Botanical Gardens Illustrated Dictionary of Orchid Genera. Peggy Alrich and Wesley Higgins. 2008. ISBN: 978-0-8014-4737-2. 512 pp., full-color illustrations throughout. $49.95 This is the most comprehensive and extensively illustrated account of orchid genera to date. Its concise entries provide details of nomenclature, classification, original publication, etymology, and geographic range, along with a brief description and color images of representative flowers. The dictionary describes not only all of the 850 orchid genera that are recognized today but also those genera known only from fossil records, published before Linnaeus, validly published (but not accepted), and invalidly published according to the standards of the International Code of Botanical Nomenclature, as well as those that have variant names or spellings. In addition to the alphabetic entries, this dictionary includes an introduction to orchid biology, a glossary, a list of taxonomists credited with publishing new orchid genera, key references and bibliographical abbreviation list, and the governing nomenclature rules. The Marie Selby Botanical Gardens Illustrated Dictionary of Orchid Genera also features a Foreword by Peter H. Raven and an Introduction on the biology of orchids by David Benzing that describes the August 2007 discovery of the world's oldest unequivically orchidaceous fossil.

Orchid Biology: Reviews and Perspectives X. Kull, Tiiu; Arditti, Joseph; Wong, Sek Man (Eds.). 2008. ISBN: 978-1-4020-8801-8. Approx. 500 pp. Hardcover. $339.00 approx.
This is the 10th volume in a series which was initiated in 1977. Like previous volumes, it contains scientific peer reviewed reviews on topics dealing with orchids. These topics include 1) a history of orchid breeders in Singapore, 2) discussion of research on pollen effects on orchid flowers carried out a century ago by the German plant physiologist Hans Fitting in Bogor, Indonesia which led to the first suggestion that plants produce hormones, 3) consideration whether orchids are mentioned in the Bible, 4) review of food hairs in orchids, 5) outline of pollen dispersal units in orchids, 6) survey of orchids in art, 7) a tracing of the history of Vanilla pollination, 8) a chapter on viruses which attack orchids and 9) an appendix which lists a very large number of orchid books.

Orchid Biology: Reviews and Perspectives. Volume IX of Scholarly Series Presents the Most Current Knowledge in Orchidology. Kenneth M. Cameron, Joseph Arditti, and Tiiu Kull. 2008. The editors of this volume have continued the series' tradition of profiling an outstanding leader in the field by offering an autobiography of Calaway Dodson, whose research on the orchids of Ecuador continues to inspire generations of botanists. Through his many studies, Dr. Dodson has contributed significantly to our understanding of neotropical orchid pollination by bees, although some orchids have evolved unique strategies for attracting butterfly and moth pollinators. This is the subject of a chapter by the late Dutch orchidologist Nelis van der Cingel explaining that most orchids pollinated by Lepidoptera are native to temperate regions of the world. Temperate orchids are also the focus of a chapter by Russian orchidologist Irina Tatarenko, who presents a comprehensive survey of terrestrial orchid morphology, many studies of which were published originally in Russian or languages other than English. Two chapters of the volume relate to France. For the first time in the series, an English translation is offered for a classic work of orchid scientific literature: the original writings on orchid seed germination by Noël Bernard. His fellow countryman Pierre Jacquet not only provides this outstanding translation, but also presents the historical contributions of French scientists to orchidology worldwide. Botanical history is also the subject of a chapter on the origin of Singapore's national flower, the well-known hybrid orchid Vanda 'Miss Joaquim', which was first described in 1893. Finally, American Ken Cameron offers a thorough overview of the impact that DNA sequence data has made in orchid systematics by focusing on the first decade of contributions in molecular phylogenetic studies of Orchidaceae. In keeping with tradition, the book concludes with a detailed appendix, the subject of which is species-by-species records from pollination to fruit ripening, seed maturation, and germination of orchids. This information will be particularly useful to horticulturists growing orchids from seed. Memoirs of The New York Botanical Garden, Volume 95. 562 pages; 27 illustrations. $85.00

Micropropagation of Orchids. Second Edition. Joseph Arditti. 2008. This greatly expanded and updated edition of a classic reference work comprises two volumes offering a compendium of methods for multiplying orchids through micropropagation. A detailed collection of procedures and methods for multiplying orchids, including organ, tissue, and cell culture techniques in vitro. Presents classic techniques that have been in the forefront of orchid propagation since they were first developed in 1949. Detailed procedures are appended with tables and complete recipes for a large number of culture media. Includes many illustrations, chemical formulas, historical vignettes, and seldom seen illustrations of people, orchids, apparatus and tools. hardcover. 1560 pp. $449.95

Indian publications. Warning: do not buy these books if you tend to be picky about the way books look. The printing is below standard and is only useful if you HAVE to have one of these. There are no returns.

Orchids : Botany, Breeding, Cultivation, Uses and Post-Harvest Management

/S.K. Bhattacharjee and S.P. Das. Jaipur, Aavishkar, 2008. ISBN: 81-7910-259-6. 396 pp., 55 drawings, 144 color plates. Hardcover. $135.00
Contents: Preface. 1. Introduction. 2. History. 3. Importance and uses. 4. Distribution. 5. Evolution. 6. Botanical classifications of Orchid family. 7. Naming an orchid. 8. Classification based on plant structure and habitat. 9. Basic structures of orchid plants. 10. Basics of orchid growing. 11. Housing of orchids. 12. Propagation. 13. Pollination. 14. Breeding. 15. Growing orchids from seeds. 16. Clonal propagation through tissue culture. 17. Post-harvest management of cut flowers. 18. Diseases and pests and their management. 19. Orchid genera, species and hybrids. References. Annexes: i. Books on orchids. ii. Orchid journals. iii. Orchid societies. Index.
Orchids are primarily valued for their beautiful and intriguing flowers. In the global market cut flowers and potted flowering plants of orchids occupy a very important place. Moreover, the international trade on these crops are advancing very steadily and search for newer materials are rising irresistibly. Orchids also play many beneficial roles in human life as medicine, phytochemicals, spice, flavouring agent and food. Interest on orchids has increased manifold over the years and marked accomplishments have been made through scientific research and investigations. To stimulate the development of an enquiring mind, this book is organized in 19 comprehensive chapters to review, streamline and highlight the achievements on orchids. It provides a wealth of fascinating information on 110 important and interesting genera, 400 species and many hybrids of orchids. This book also furnished extensive review chapters on history, evolution, classification, propagation, pollination, breeding, agrotechnology, green houses, in-vitro seed culture, tissue culture, post-harvest technology and plant protection. This publication is intended to be comprehensive source of information to amateur and professional growers, exporters, orchid industries, horticulturists and also concerned students, teachers and researchers.



Orchid Genera in Thailand (I, II and III Bound in One)/

Gunnar Seidenfaden. Dehra Dun, Bishen Singh Mahendra Pal Singh, 2006, 224 p., plates, figs., ISBN 81-211-0594-3. Hardcover. $115.00 REPRINT
Orchid Genera in Thailand I. Calanthe R. Br:
Orchid Genera in Thailand II. Cleisostoma Bl.
Orchid Genera in Thailand III. Coelogyne Lindl.

Orchid Genera in Thailand VI : Neottioideae Lindl./Gunnar Seidenfaden. Dehra Dun, Bishen Singh Mahendra Pal Singh, 2006, 196 p., figs., ISBN 81-211-0597-8. Hardcover. $115.00 REPRINT
Contents: Introduction. General remarks, key to genera. List of genera and species: 1. Erythrodes. 2. Herpysma. 3. Dicerostylis. 4. Goodyera. 5. Ludisia. 6. Vrydagzynea. 7. Cystorchis. 8. Anoectochilus. 9. Evrardia. 10. Cheirostylis. 11. Myrmechis. 12. Zeuxine. 13. Hetaeria. 14. Spiranthes. 15. Cryptostylis. 16. Tropidia. 17. Corymborkis. 18. Epipactis. 19. Aphyllorchis. 20. Thaia. 21. Lecanorchis. 22. Galeola. 23. Vanilla. 24. Nervilia. 25. Epipogium. 26. Stereosandra. 27. Didymoplexiella. 28. Didymoplexis. 29. Gastrodia. 30. Bletilla. 31. Summary. 32. Literature. Index.



Orchids of India : A Glimpse

/Sarat Misra. Dehra Dun, Bishen Singh Mahendra Pal Singh, 2007, x, 402 p., figs., ISBN 81-211-0618-4. Hardcover. $105.00
Contents: Preface. 1. Introduction. 2. History. 3. Ecology. 4. Morphology. 5. Evolution. 6. Flowering. 7. Systematics. 8. Specialized groups. 9. Enumeration. 10. Conservation. 11. Glossary. Literature cited. Index.
This book aims at providing the readers a brief picture of the orchid wealth of India. The geographical regions, diverse habitats and the distribution of orchids in India, both region-wise and altitude-wise, have been provided under ecology. The life form, growth habit and morphology of the Indian orchids have been discussed under morphology. A large number of figures of the habit, inflorescence, flower, lip, column, stigma and rostellum, anther and pollinia have been provided to show the extreme ranges of diversity in the vegetative and floral forms of orchids. The flowering behaviour, flowering period and the phenology have also been discussed. Systematics describes the orchid family, key to various subfamilies, and classification of the genera and their tribes and subtribes. An artificial key to the 185 Indian genera, followed by the brief generic description, has been included, too. Orchids with speciality, like having two fertile anthers; with climbing habits; and saprophytic habits, have been discussed separately. A new species under a new genus, and three new combinations have been described. As orchids in the wild today are subjected to various threats, measures for their conservation have been discussed separately. The enumeration lists 1331 taxa recorded till today in India, showing their regions of occurrence and their flowering periods. A glossary of the botanic terms used in this book has been provided at the end.



Orchids of Guatemala, 2 vols.

Oakes Ames & D.S. Correll. 1952, 1991 Indian Reprint. 727 pp. Hardcover. $80.00
Numbers 1 and 2 of volume 26 of the Fieldiana: Botany scientific revue (1952-53).

Special sale on

Flora of the Lesser Antilles : Leeward and Windward Islands. Howard, Richard A. Jamaica Plain, Mass. :Arnold Arboretum, Harvard University, 1974-1989. v.1 Orchidaceae $30.00

Fast, Gertrude. Orchideenkultur. Botanische Grundlagen, Kulturverfahren, Pflanzenbeschreibungen. (Orchid culture. Botanical basis, culture, and descriptions). 1995. 3rd ed. very nice book, with many color photos, arranged by genus with a description and discussion, then lists common species and short discussions with culture information. 140 color photos, 137 drawings and B&W photos, 416 pp.hardcover. ISBN 3-8001-6451-5. $25.00

Gruss, O. & M. Wolff. 1995. Phalaenopsis. very nice book, organized by sections and then alphabetically by species. Each species entry includes original citation of the orchid species, and detailed descriptions and synonymy. 160 color photos, 63 drawings190 pp. hardcover. in German. ISBN 3-8001-6551-1. $25.00

Sprunger, Samuel. 1986. Orchideentafeln aus Curtis's Botanical Magazine. (Orchid plates from Curtis' Botanical Magazine). Forward by P. Cribb. In German. 525 pp. 1176 color drawings. Hardcover. ISBN 3-8001-6183-3. $100.00
---
Prices may fluctuate with the Currency Exchange Rate!
To order any of these publications, just mailto:balogh@balogh.com
Back to our Home Page